Products introduction
Features:
1 The device dedicated to the exchange of LED ball bulbs, 220V, 110V LED energy-saving lamps finished detection aging voltage of 220V LED energy-saving lamps, high-voltage, medium-voltage, atmospheric pressure and low-pressure, high-temperature, roaming, shock zone observe the LED energy-saving lamps can be passed above voltage segment aging test.
2 tooling plate bulb lights and 1.2 m lamp aging;
3 to achieve product aging time-four hours;
4 across the board for a total of 133 chain plate, each chain plate mounted the E27 five cartridges lampholder 16, T8 Fluorescent Lamp Holder 4 pairs of aging Bulb 2128 or 532 fluorescent tubes (across the board to send full).
Technology requirements:
1, temperature zone: thermostat system using electric heating complete the set lower 9 m heated section, the second meter installed two the 1KW ceramic heating tube, three temperature collection point, automatic temperature control: room temperature +80 ° C.
2, detect impact beats circuit: Taiwan regulator 10KW regulator 1 units,0-250V adjustable set up across the board six districts, each district, the impact of time can be set on a touch screen interface.
3 the detecting of normal circuit: 0-250V adjustable Taiwan regulator the 10KW regulator 1 units, set to normal pressure test. (Regional range of about 7 meters).
4, the detection of low-voltage circuits: 0-250V adjustable Tianzheng regulator the 10KW regulator 1 units, set to low pressure test. (Regional range of about 7 meters).
5, the detection of high-voltage circuit: Tin genuine regulator 10KW regulator 1 0-300V adjustable, set to a high-pressure test. (Regional range of about 7 meters).
6 Bulb chain plate E27 screw lampholders;
7, lamp aging using fast T8 tube seat fixture installed. (Lamp Tower fixture can mobilize the sub 300mm,600mm,900mm,1200 mm);
Appearance and protection requirements:
1, fuselage, rack 40 * 40 * 1.5 (MM) steel pipe welding is made of 130 * 23 (MM) aging line of special aluminum alloy, shield 1.2MM cold plate by bending up and down the fuselage ;
2 inch Double pitch single inclined two holes chain transmission chain;
3, online on the set light barrier passport, using a combination of plexiglass and aluminum plate profiles effectively reduce the energy-saving lamps glare, and better protect the eyes.
4 across the board total with two electric groove track, using insulating epoxy board. Assembly 3MM thick copper conductive strips. Assembling a line body the protective drop resistance network to prevent the product from falling broke, the use of high-quality stainless steel on both sides of the pore network universal angle iron fixed.
5, device not rust, dust is generated.
6, device noise: 65dB.
7 feet with galvanized adjustable level adjustable height cup feet.
Line body shape
1 line body total length: 12 meters, the face and the ground height 750 ± 20mm adjustable
2 Dimensions: L15000mm * W1620mm * 1650mm
Power and transmission:
1 The motor three-phase motor with Taiwan 1.5KW 1:200 reducer, 2HP inverter frequency stepless speed, line speed 0-2M/min adjustable 0-4 hours of aging time is adjustable.
2, 1 inch T17 tooth double pitch sprocket with of φ50 spindle and a tensioning mechanism for transmission.
Rack structure:
1, fuselage, rack: rack with 40 × 40 × 1.5mm square steel tube welding made into; fuselage using a special aluminum alloy 130 × 23 × 2mm aging line.
2, nose, tail guard is made of 1.2mm cold plate bending. The lower shielding plate with 1.2mm cold plate bending system, equipped with a 3mm thick brown plexiglass observation window, one meter section, each equipped with two clasping.
3, conveyor chain: double pitch the single ear high strength with two holes chain. 30 * 30 GB angle steel support rails, down a total of two-story
4, chain plate: 2.0mm cold plate bending rolled into 148 × 1390 × 57mm each chain board installed a unipolar empty Open 16 E27 five cartridges lampholder, 4 groups of adjustable bit T8 Fluorescent Lamp Holder. The bottom mounting Er conductive brush (bronze).
Black spray chain plate,
5 Online decent block light guard, 3mm tinted plexiglass plate with 40 * 40 aluminum profile combination. Effective attenuation of energy-saving lamps glare, eye protection
6 conductor rail: across the board above with three conductor rail, using the 5mm epoxy boards and rack insulation. Assembly 3mm × 30 stainless steel aging special conductive tracks.
7The safety net: online body assembly a protective drop resistance network, smash off the lights to prevent production of high quality stainless steel pore network, specification 15000 × 1400mm on both sides with universal Jiaotie fixed.
Electronic control system:
1, the cabinet: 1.2 mm cold plate bending rolling into 730 × 1250 × 1800mm ,40 × 40 × 1.5mm iron square tube support, two storeys arranged. Upper instruments, small conventional control element, the lower is the regulator
2, control elements: with ammeter, digital voltmeter and lights to display the input voltage and three-phase current. The system adopts Mitsubishi PLC and 7-inch touch screen control to adjustable shocks aging time and start-stop transportation;
3, the electrical box and line body of the tube with an emergency stop switch for emergency shutdown. With three-color warning lights to display the equipment operating conditions.
Service
1. Arrange engineers to China learning, we offer free accommodation and meals,Transportation costs paid.
2.Arrange engineers to customer factory, All the costs borne by the customer. An additional fee of $100 a day with one engineer.
3. Our engineers often travel the world, experience is very rich. If our engineers to your company, we suggest that the time of 3 days to 7 days.
4. Our engineer is responsible for training, and with the customer to produce products.
5. We suggest that it is our engineers to customer factory.
Core advantage
1.The most professional SMT/DIP team
2.Advanced design concept of imported equipments 3.Well experience on SMT/DIP
4.Professional SMT/DIP planning ability 5.Persistent forward-looking development ability 6.Professional after sale services team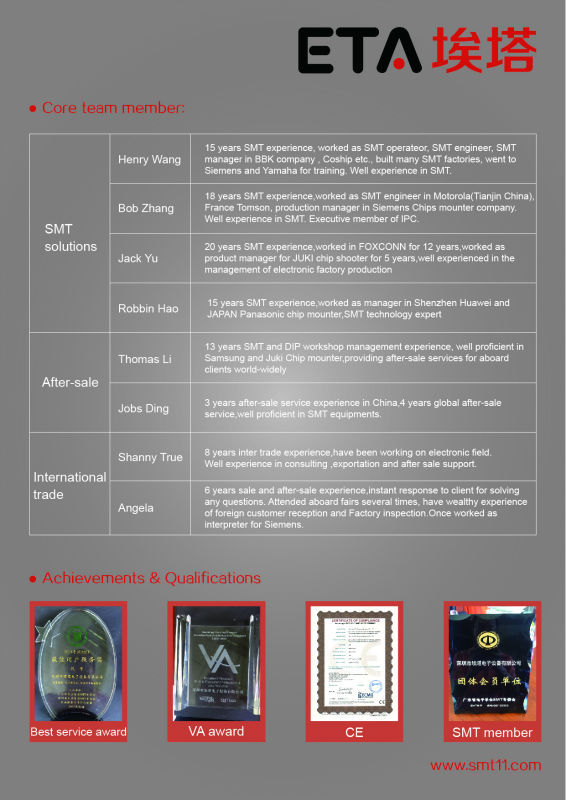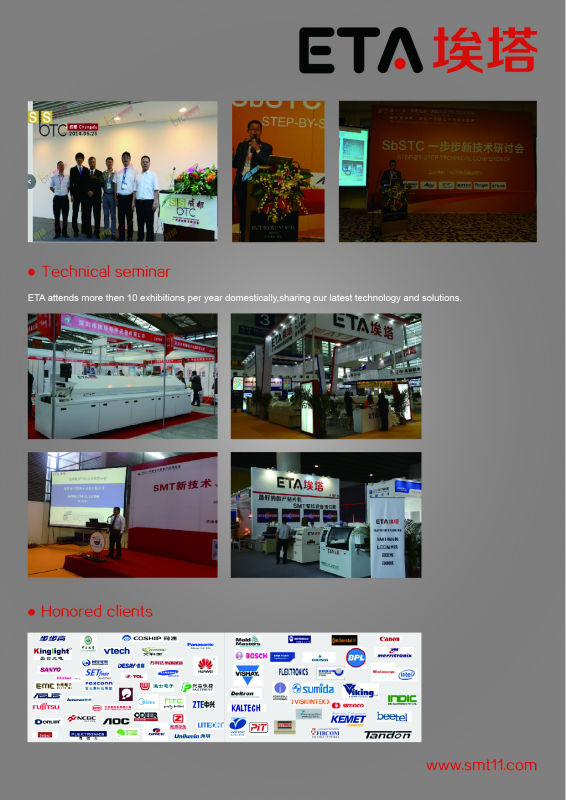 FAQ
1. Quick response within 24 hours.
2. On time delivery.
3. Techinical support before and after sales.
Thanks for choosing ETA.
ETA looks forward to win-win cooperation.(skype:etasmt2)